At Newrest Funerals, we are a renowned online funeral director with extensive experience in offering comprehensive funeral services tailored to your individual needs. Our offerings encompass direct cremations, direct burials, traditional funerals, eco-friendly funerals, and much more. In our commitment to guide you through the challenging process of arranging a funeral, we have crafted a comprehensive list of popular funeral flowers for 2023 that encapsulate the depth of emotions and sentiments associated with these sombre occasions. Our expert and authoritative advice, combined with the latest developments in floral design, guarantees that you will have the necessary knowledge to choose the most fitting floral arrangement to pay tribute to your dearly departed.
Funeral flowers have long been a cherished tradition, conveying our love, admiration, and respect for the deceased. Their presence at a funeral service not only enhances the atmosphere with elegance and beauty but also offers solace and consolation to grieving family members. Flowers have an immediate and enduring positive effect on happiness and overall mood, making them a significant and meaningful element of memorial services. Bearing this in mind, let us explore the most sought-after funeral flowers of 2023, as we unveil contemporary trends and timeless classics alike.
A Contemporary Twist on Classic Arrangements
As we embrace the new year, an innovative approach to traditional funeral flowers has emerged, seamlessly blending the classic and the contemporary to create stunning arrangements that speak volumes. The classic lily, a symbol of restored innocence to the soul of the deceased, is now often paired with roses in a harmonious blend of elegance and grace, evoking a sense of compassion and empathy. The popular chrysanthemum, representing death and rebirth in many cultures, is now frequently arranged with understated foliage, such as eucalyptus or ruscus, to provide a serene backdrop that complements the striking beauty of the blossoms.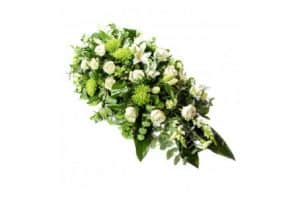 Moreover, the delicate orchid, symbolising eternal love, has seen a rise in popularity, bringing a touch of refinement to modern funeral arrangements. The trend of incorporating succulents, symbolising enduring love, into funeral floral designs are also gaining momentum, adding a distinctive texture and dimension to traditional arrangements. The use of native and seasonal flowers is yet another contemporary trend, as it showcases a personal connection to the location and time of year, while also honouring the environmental impact of our choices.
By considering these creative approaches to classic funeral flowers, you will be able to craft a unique and heartfelt tribute that reflects the distinct personality and spirit of your dearly departed loved one.
Contact Newrest Funerals Today
In conclusion, choosing the ideal funeral flowers is an essential aspect of commemorating the life of a loved one. Our experienced team at Newrest Funerals is here to provide guidance and support, ensuring that your chosen floral tribute reflects the unique character and spirit of the deceased. We invite you to contact us today and allow our experts to guide you through this important decision. In doing so, you can trust that you are honouring the memory of your loved one with the utmost care, respect, and attention to detail.