What is a Funeral Wake?
As professionals in the funeral industry with a great deal of experience in all aspects of funeral planning, we often get asked questions about the sorts of rites and rituals that are observed in the UK. Among the many queries that come up time and again are those connected to wakes. Often, we find that people want to know what they are and whether they need to hold one or not. 
Here at Newrest Funerals, we will always answer specific questions about wakes – and other elements of traditional funeral services – so that our valued clients get the sort of tailored service they deserve. In the meantime, however, it may be useful to read our guide to wakes, as outlined below.
Find out more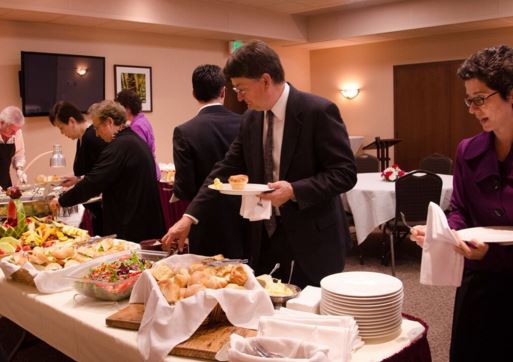 What Is a Wake?
Firstly, a wake is a gathering of mourners that takes place after the funeral service itself. Think of it as the equivalent of a wedding reception as opposed to a marriage ceremony to give you a general idea. Wakes are less formal than most funeral services. They allow mourners to mingle, chat about the deceased and perhaps share photos and stories. Most wakes will include refreshments, such as tea and coffee. Some will also involve the provision of alcoholic beverages as well as food. Typically, catered wakes take the form of a buffet rather than a formal meal but what is included varies according to personal preferences.
Must Funerals Include Wakes?
No, they don't have to. It should be noted that they are the norm, however. If you don't want a wake, then don't have one. That said, it would be useful to inform attendees of this decision prior to the funeral so they know what to expect.
Where Should a Wake Be Held?
Wakes are not usually held at the funeral venue where the service takes place. This is because most funeral homes and places of worship, for instance, will move on to other services or they simply won't have the facilities. Sometimes, the home of the deceased will be used to stage a wake. There again, it might be the person who has organised the funeral who chooses to host the wake in their home. More often than not, wakes take place in venues suited to such gatherings, such as community halls or function rooms in pubs, for example.
How Much Do Wakes Cost?
We can help you to arrange a wake within your budget. Our local expertise can be very useful in this area. Nevertheless, wakes do not have to be expensive. Simple catering with warm beverages and a few sandwiches is often sufficient for a successful wake. Of course, you can spend more if you want but this is a personal decision. We will support you no matter what you choose to do.
How Long Do Wakes Go on For?
Sometimes wakes last for an hour or two following a funeral service. Morning funerals might have a wake that runs over the course of a lunch hour, for example. That said, if you want to host a wake that will go on for longer and into the evening, then there is nothing to stop you from doing so. When people are ready to leave, they should do so after paying their respects.