In the emotional aftermath of losing a loved one, the financial implications of a traditional funeral, which in the UK averages around £4,800, can become an additional strain. At Newrest Funerals, we firmly believe that honouring a life shouldn't be intertwined with financial difficulties. Embodying the principles of dignity, respect, and affordability, we are proud to present our direct cremation services in Derbyshire for a transparent fee of £895, with no concealed expenses or up-front charges.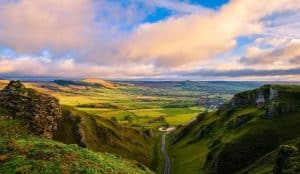 Direct Cremation in Derbyshire

Direct cremation is a dignified and discreet method of bidding adieu, taking place without the attendance of mourners. Held at our selected regional crematoria, this service ensures an uncompromising level of respect for your departed loved one. This model provides families the flexibility to later orchestrate heartfelt and individualised memorial events, often with the dispersion or conservation of ashes as a focal point.
Setting Out on Your Tailored Journey
Facilitating a direct cremation in Derbyshire is streamlined with our online portal. A few prompts lead to a clear, commitment-free estimate. However, if personal interaction is your preference, our dedicated team is readily available at 0800 111 4971, ready to provide seasoned advice.
All-encompassing £895 Package
Our comprehensive package, priced at £895, assures the collection of the deceased from any hospital or mortuary across England or Wales, and their dignified conveyance to our regional crematoria. In scenarios requiring retrievals from private dwellings or care homes, an additional cost of £250 is applicable, underlining our team's consistent accessibility.
Reverence is paramount at Newrest Funerals. We supply sustainable wooden coffins, meticulously crafted by esteemed British artisans. We champion open communication, notifying you of the cremation's schedule, and granting space for private contemplation. Following the cremation, ashes may be spread within our peaceful Garden of Remembrance or entrusted to you in an eco-sensitive urn, complete with a custom nameplate, available for a small sum of £91.
Carving Out Unique Memorial Gatherings in Derbyshire

Although our direct cremation service doesn't encompass the provisioning of venues, it grants families the latitude to design a singular celebration of life at a date that holds personal meaning, whether dictated by poignant milestones or favourable weather conditions.
Budget-friendly Yet Honourable Farewells
Electing for direct cremation in Derbyshire circumvents the oft-prohibitive costs associated with orthodox funerals, like venue allocations, floral tributes, and catering. Our approach is laser-focused on the indispensable facets, delivering a touching yet economical goodbye.
Charting the Path Ahead
If the tenets of direct cremation align with your inclinations, or if you're curious to delve deeper, we invite you to liaise with our experienced cadre at 0800 111 4971 or at [email protected].
Walking Through Bereavement in Derbyshire
In these poignant junctures, it's heartening to know that assistance is at hand. Numerous bereavement entities in Derbyshire are poised to support you as you manoeuvre through this emotional terrain.
Reaching Out
Your commemorative path holds immense significance for Newrest Funerals. Contact us at 0800 111 4971, as we stand poised, eager to assist during this significant chapter.